Camp Run-A-Mutt Sorrento Valley
11468 Sorrento Valley Rd
Suite B
San Diego, CA 92121
phone: 858-272-6310
fax: 858-227-0320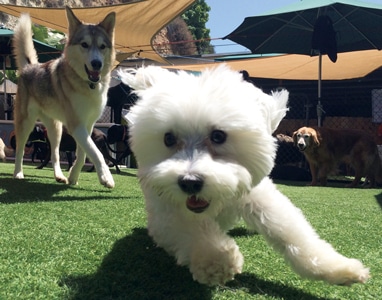 At Camp Run-A-Mutt our dogs get to do what dogs do best: run with the pack, romp around with friends (both human and dog), play fetch, sniff all the smells, splash in our water feature, snooze in the sun (or the shade), get lots of belly rubs and watch the shenanigans. Best of all, you can see for yourself on our Muttcams!
Like daycare, boarding is also cage free. This means "pack boarding" with their friends and cared for by our qualified alpha human. Our staff stays with the dogs all night (just like at home) to make sure they are safe and comfortable. A good night's sleep tonight means a happy pup with plenty of energy for more fun tomorrow.
Our groomers are skilled, patient and most importantly, they love dogs! Dogs who get groomed while at Camp get to play right up until their appointment time. Most dogs actually enjoy the one-on-one attention and our groomer knows that tired dogs are more relaxed and easier to groom. It's really a win/win for everyone.
Even the best dogs can benefit from training, which helps build their confidence and strengthens your bond with them. All of our trainers practice positive reinforcement methods, which is the most humane and effective training there is. We offer a variety of options, designed to meet your dog's needs.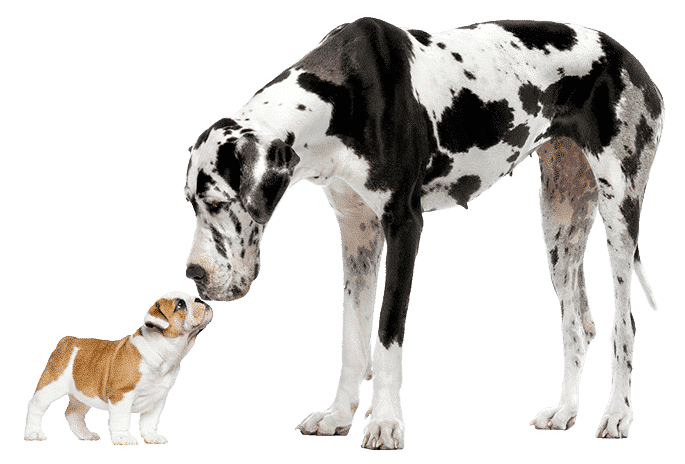 Registration Requirements
Since Camp Run-A-Mutt™ is cage-free, we strive to make it a positive and safe experience for all our campers, no matter their age or size. Therefore, we have a few more qualifying steps to join the fun than most other places. Every new dog is given the best possible chance to become a Camper and once they succeed, you'll be glad all their new playmates have gone through the same process.
Since we are cage-free, to ensure a positive and safe experience for every camper, there are a few extra steps to join the fun.
To attend Camp, a camper wanna-be MUST:
Have a proper fitting collar with name tag

Play well and gently with all sizes of dogs

Show no aggression

Know and listen to their name

Not be an excessive barker
We get it, this can be a stressful routine change for both you and your dog. Our goal is to keep your dog occupied by giving them a chance to socialize, play, and get caught up in the fun. For you, our Muttcams give an inside look at what your pup and all the other Campers are doing during the day. When picking up from daycare or boarding, expect a pooped pup who will want to drink a lot of water when they get home. This is normal. We have plenty of fresh drinking water and our yard attendants take extra time to introduce new pups to the multiple water stations and all the other fun stuff like climbing apparatus and splash pond. The excitement of mom or dad picking them up will get their adrenaline going and heart pumping which will make them extra thirsty. We suggest letting them drink, but not too much as that can upset their stomach. And let them rest. New dogs might tend to over-do it at first. It will take a few visits before Camp Run-A-Mutt becomes their new routine.
If this looks like the right place for your pup, please follow these steps.
Have your veterinarian email vaccination records to [email protected] or fax them to 858-227-0320. We require proof of current standings on Bordetella, Distemper, Parvo, Canine Influenza Virus, Leptospirosis, and Rabies. All dogs over seven months of age must be spayed or neutered.
Give us a call at 858-272-6310 to set up a brief "temperament test." We conduct temperament tests by appointment from 9:00 am to 3:00 pm.
Once you arrive at the camp, we will verify your dog's vaccination records, have you review and sign our Service Agreement, get to know your dog a little more, and then introduce them to some of our regular campers in our temperament testing area while you watch a live feed in our customer lounge.
If all goes well, your furry friend can stay and play, or come back another time for their first official day of daycare!
If this looks like the right place for your pup, please follow these steps.
Have your veterinarian email vaccination records to [email protected] or fax them to 858-227-0320. We require proof of current Bordetella, Distemper, Parvo, Canine Influenza Virus, Leptospirosis, and Rabies. All dogs over seven months of age must be spayed or neutered.
Call us at 858-272-6310 to set up a brief "temperament test" which consists of us getting to know your dog a bit more, and then introducing him to some of our regular campers.
If all goes well, your furry friend can stay and play, or come back another time for their first official day of daycare!
If your dog is not already a Camper, they must first pass a temperament test and stay for at least one full day of daycare.
Once your pup has passed his initial temperament test, they'll will be required to spend at least one full day (minimum of six hours and a fee of $35) in daycare.
We'll keep a close eye on them
During their day of play we are watching to see how they interact with other campers, if they settle in after a while, whether they have severe separation issues or if they are disruptive to the pack. At the end of their day, we will let you know if we think your pup would be comfortable enough to spend nights at the Camp.
If they pass their "test" day, you can now schedule your pup for their sleepover and leave a one-night deposit. Deposits can be refunded with 48-hour notice of cancellation.
Consider prepping your pup
We STRONGLY encourage you to bring your pup for a few days of play before their first boarding stay so they can acclimate to our camp and staff. This always makes the sleepover easier.
Fill out our boarding check list
Before your pup arrives for their stay, please fill out our Boarding Checklist (which is found in the confirmation email you received after scheduling). This ensures proper and consistent care during their stay.
We require that your pup is dropped off BEFORE NOON the day they sleep over. You can pick them up during normal business hours after their last night. 
If your dog is not already a Camper, they must first pass a temperament test and stay for at least one full day of daycare.
Once your pooch has passed his initial temperament test, they'll need to spend at least one full day in daycare.
We'll keep a close eye on them
During their day of play we will determine whether we believe your pup would be comfortable spending nights at the Camp.
If your pup passes their "test" day, you can schedule their sleepover. (The confirmation email you receive after scheduling contains our Boarding Checklist. Please fill this out prior to check-in to ensure proper and consistent care during your dog's stay.)
We require that your pup is dropped off BEFORE NOON the day they sleep over. You can pick them up during normal business hours after their last night.
Non-stop action!
Are you ready for the ultimate reality show? Then check out our Muttcams where you'll see all the shenanigans happening right now. Watch your dog run, play, nap and do things you never knew they did on our live action cams. Your pup will have no idea they're being spied on and we won't tell them either.

Stay tuned with upcoming events going on at Camp! Check out our Facebook page to find pics of our Campers and stay up to date on important things going on at Camp.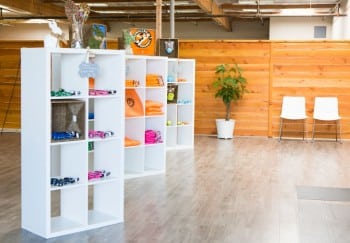 Dog Boutique
Camp Run-A-Mutt offers some of the most unique, useful and just plain fun supplies for your dog. From the essentials like leashes and collars, food, supplements, beds and grooming tools, to the non-essentials like toys, sweaters and treats (although your pup may think these are the essentials, too), we carry it all. Our goal is to make your canine companion happy and healthy while making your life easier by carrying everything they need in one stop. We support local vendors who come up with safe, high-quality and interesting products for your dog. This way we can offer things you won't get from your local chain while also supporting our community. And if it's not here, let us know. We can probably fetch it for you.
Giving Back
Camp Run-A-Mutt believes in giving back to the community in which we live, and we love all dogs, which is why we contribute our time and financial resources to help those pups that are in need. We partner with shelters and rescue groups to help adoptable dogs find their fur-ever homes through hosting adoption events, promoting foster dogs on our social media channels, and even offering daycare services to dogs in foster homes. We also donate the proceeds from fundraising events to support local animal rescue organizations.
Ruffural Discount
When you refer a camper that buys a daycare package you AND your friend will recieve 20% off your next daycare package!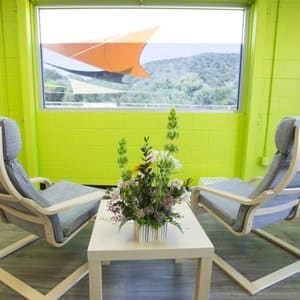 Deluxe Customer Lounge
At Camp Run-A-Mutt, Sorrento Valley we are unique in that we encourage you to come watch your pup play in our yard! In addition to our Mutt Cams which you can view online, we also have a Deluxe Customer Lounge featuring a one-way viewing window where you can see how your dog socializes, plays, and interacts with our Camp Staff! Come check it out for yourself!
Pet Related Businesses
Helen Woodward Animal Center
This unique nonprofit organization benefits the community by providing educational and therapeutic programs for people, as well as humane care and adoption for homeless animals.
web site
Spot on Dog Training, Andrea Acosta
Spot on Dog Training helps dogs become the best they can be so you can live your life more fully, and love your dog more deeply.  
web site
New English Brewing
Brews standout beers across a spectrum of styles and is a family and dog-friendly establishment.
web site
Camp Run-A-Mutt Sorrento Valley
11468 Sorrento Valley Rd, Suite B, San Diego, CA 92121
phone: 858-272-6310
fax: 858-227-0320
Frequently Asked Questions
Your Title Goes Here
Your content goes here. Edit or remove this text inline or in the module Content settings. You can also style every aspect of this content in the module Design settings and even apply custom CSS to this text in the module Advanced settings.
Can I tour the facility?
YES! We understand the importance of transparency when it comes to your fur baby, so we are happy to provide tours of our facility. This may be easier during certain hours of the day than others (such as morning drop off or feeding times) so please give us a call to confirm the best time.
How old does my pup need to be before I can bring him or her to Camp?
The minimum age requirement for puppies is 12 weeks of age. Typically, by this point they have received at least 2 sets of their initial puppy shots, and most vets agree this is an acceptable time to begin introducing your puppy to other dogs. Don't forget, all Campers are required to be up to date on all vaccinations while at Camp Run-A-Mutt, so this is also one of the safest places for your puppy to begin interacting with new dogs. 
Why does my dog need to be neutered/spayed at 7 months of age?
Our spay and neuter requirements are for the safety of all dogs in our care, especially yours. Often, when puppies begin to produce sex hormones, it can lead to unwelcome behaviors. It can also cause other dogs to behave differently toward that dog than they normally would. In order to prevent behavioral issues on both sides, and since this is the average age where problems begin to arise, all dogs must be altered by 7 months at the latest. This is also why sterilization procedures alone are not sufficient to eliminate the risks. Procedures such as chemical sterilization in male dogs, for example, do not end hormone production, so many of those potentially problematic behaviors remain. (That being said, some puppies develop more quickly than others and may begin to exhibit certain behaviors earlier than this. If we believe that this may lead to an unsafe environment for any dog, including yours, we may ask you to temporarily refrain from daycare and boarding until after your dog has been fixed.)
What is a temperament test?
A temperament test is an opportunity for us introduce your dog(s) to a cross-section of the types of dogs they will meet in our play yards, and assess their comfort level with each type of dog. We use a mix of males and females, small, medium, and large sized dogs, and puppies, adult, and senior dogs (all of which we see on a regular basis!). This helps us know how to set your dog up for success on their first day of daycare, to ensure they have a comfortable and fun experience!
Can I watch the temperament test?
Absolutely! We have a live camera feed of our temperament test area so that you can see exactly what's going on, from the comfort of our customer lounge. In an effort to create the most accurate representation of our primary play areas, we don't permit customers to be in the area while we are conducting the temperament test. Since you won't be there when your pup is in the play yard, we want to understand how they behave without you nearby. But we promise to communicate with you during every step of the process!
How long does a temperament test take?
The short answer: it depends. The longer answer: There is no pre-determined length of time. Each temperament test is conducted based on the unique needs of the new dog. For a dog that's been in daycare their whole life and is happy-go-lucky and super confident, it may be no more than 5-10 minutes. For a dog that hasn't had a lot of socialization, or is slow to warm up to new people or dogs, we will slow it down to match their comfort level. We want to set each new dog up for success, so we never want to rush them into a situation they aren't ready for! For that reason, we generally ask that you budget about 15-30 minutes for the whole process, from start to finish.
Can I do a temperament test first thing in the morning, right when you open?
We know that life is busy, which is why we offer temperament testing every day that we are open for daycare. However, when we first open in the morning (or at the very end of the day), we do not have the appropriate number of staff or dogs to facilitate an accurate temperament test. For this reason, we ask that you call or email us to determine the best time for you to bring in your pup. This also allows us to ensure that we can provide you the highest level of customer service and our undivided attention when you arrive! 
I just adopted my dog last weekend. Can I schedule a temperament test?
Congratulations! The majority of our Campers are adopted, and we love that! However, we know that newly adopted dogs  have had a lot of transition their lives, potentially in a very short period of time. Also, there are several aspects of daycare that are very similar to a shelter environment (barking, tons of smells, many different dogs, strange people). That might cause a dog to think they are back in that place, and revert back to behaviors they might have exhibited at that time such as those associated with anxiety or fear. Since they are still in an adjustment period, and because you may not be able to provide much information about their behaviors after only a short time together, we ask that you wait at least 3 weeks before bringing your new family member into daycare. In the meantime, we recommend lots of bonding time through walks, playtime, and treats!
My dog has been in daycare before, why does Camp Run-A-Mutt require another temperament test?
We do this to ensure the safety of each and every dog that enters our facility. Dogs are very sensitive animals and may respond differently to new sights and smells, people, and dogs, so we want to ensure that the combination of those stimuli at our location is a good fit for your pup. This is a requirement even if your dog has been a camper at another Camp Run-A-Mutt, or maybe even if it's been a long time since your last visit to our location. 
Why does my dog need to complete a "test day" before they can board?
Our cage-free boarding is a unique concept. As such, it may not be the perfect option for every dog (and that's ok!). To ensure the safety and comfort of all pups in our care, we require that all Campers spend a minimum of one 6+ hour day with us prior to being allowed to spend the night. This allows us to observe their behavior over the course of the day. Sometimes, dogs who appear comfortable at first can become anxious as other dogs begin to go home from daycare or cranky as they get tired from playing. Because having dogs who are tired and relaxed is key to having a restful night of boarding, we want to make sure that your pup settles in well. Should your dog appear uncomfortable or overly anxious as the day progresses, we may recommend additional daycare prior to scheduling boarding. We also encourage customers planning for a long boarding stay (a week or more, for example) to consider a "trial" boarding night prior to their dog's first long stay, so they can experience staying overnight, but getting to go home with their parent(s) the next day. This makes the next time less scary!
Why do we need to check in before noon for boarding?
Our noon-drop off requirement has several benefits, all of which are geared toward ensuring your dog has the best first night possible. Generally by noon, most daycare dogs have arrived for the day, meaning less changes to the pack dynamic, which can help your dog settle into the day. They also have the opportunity to be greeted by and hang out with the other dogs who will be spending the night with them, and most of the employees who will be on site for that day. Most importantly, arriving by 12pm gives your dog the chance to play for at least 6 hours before the day starts winding down. And we know that a tired dog makes for the best slum-grr party guest. 
Why do you want me to individually package my dog's meals when boarding?
We ask that you bring your dog's meals in pre-portioned containers of your choosing (ziplock or paper bags, jars, reusable containers – all of which we are happy to save and return to you, if you like) so that we can quickly determine at check in that your pup has enough food for their entire stay based on your feeding instructions. It also eliminates any disparities in measurements, so you know your dog is getting exactly how much you intend (does "1 cup" mean 1 level cup, 1 heaping cup, or 1 scant cup?). And, most importantly, it frees us up to spend more time playing with your dog (which we're pretty sure is what we all want)!
My dog is boarding. Can I pick my dog up before you open or after you close?
Although we are staffed 24 hours per day, we cannot accommodate after hours pick ups. For the safety of all dogs in our care, Camp Run-A-Mutt has very strict policies when it comes to employee supervision of Campers. Depending on the number of boarding dogs, there may only be one employee on site, and they would need to leave other dogs unattended in order to check out your dog, which is inconsistent with our standards of care. However, if you give us advanced permission to do so, we will gladly allow someone other than you to pick your dog up, if you are unable to do so during our normal business hours. 
Why can't I see my dog on the Muttcams? Are they ok?
Our Muttcams are placed to provide the maximum view of our play areas and the best action footage. Many of our dogs play so much that they have to rest and recharge, so there's a good chance your pup is just relaxing out of camera view. Sometimes newer dogs like to observe from the sidelines for awhile before venturing into the mix. If you can't spot your dog for awhile, always feel free to give us a call and we can give you an update that way.
Why did you put a Camp collar on my dog today?
For their safety, all Campers must wear a proper fitting quick-release collar while participating in daycare or boarding. If they happen to arrive at Camp without one, we can utilize one of our collars for the day. (Please note: if your dog cannot wear a collar for medical reasons, we can permit them to wear a harness instead.)
Why did you leash/time out/or move my dog today?
There are a number of reasons why we may temporarily leash a dog, or move them to a different part of the facility, but it's always based on creating the safest environment possible for all the dogs in our care. Please give us a call, or talk to us when you pick up your dog and we will be happy to discuss in detail.
Love your dog.
Love your career.
Love your life.
Do you love your dog? What about everyone else's dogs? Do you find yourself getting distracted from a conversation when a fluffy mutt struts by? Do you think every dog should have a chance to live life to the fullest?
Camp Run-A-Mutt is growing by leaps and bounds in the ever-expanding pet industry. We have developed a nationwide presence and are looking for passionate, dedicated dog lovers who share our ideals about "what's best for the dog" to open and operate future locations.
If this sounds like something you would love doing and want to explore the opportunity, check out our franchise information online by clicking below.