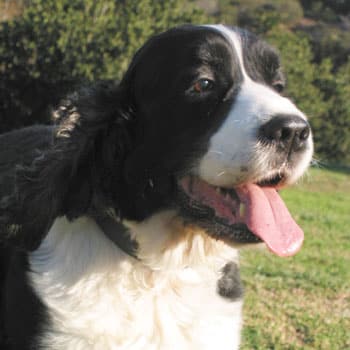 In honor of Andy, the pup behind it all.
Our Promise
To most people, their dog is far more than just a pet, they're a member of the family. At Camp Run-A-Mutt we understand the importance of knowing your dog is safe and comfortable while in our care. We are committed to maintaining an environment that offers fun and exercise in a well supervised, clean and safe surrounding.
– Dennis, Mikel, and Severn
Owners & Founders of Camp Run-A-Mutt
Three friends, one dog, and lots of love!
The Camp Run-A-Mutt concept was born in mid 2007. We (Dennis, Mikel and Severn) put our heads together and came up with the obvious: build a place we'd bring our own dogs to. A clean, safe place that looks like a dog park with grass, toys, things to climb in, things crawl through, and water – not just to drink but to jump into and splash. Instead of cages, there would be other dogs to play with and humans 24/7 to keep the chaos controlled. Also, "Muttcam" technology that allows people, no matter where they are, to watch their dogs having fun. Finally, a beautiful, user friendly website that allows customers to register their dogs, submit instructions for boarding and connect to a social network of dog lovers. When we opened on February 29th, 2008 we were proud of what we'd created and determined to change an industry that needed updating.
Since that first day, there's been a recession and competition yet CRAM has had continuous growth. We've learned something everyday from every dog that's walked in the door, and there have been thousands. It's not enough to provide a safe place for dogs, you have to love and care for them like your own. We have learned the nuts and bolts of running a successful business, winning awards from the San Diego Chamber of Commerce, local television stations and publications along with an A+ rating from the BBB and the San Diego Humane Society's Compassion Award. This business was started with a basic love and respect for dogs and turned into a concept that thousands of dog lovers know, love and keep coming back.
Dennis Quaglia
President / Co-founder
Working at a nuclear power plant, the space shuttle project, graduating from Cal Poly and climbing telephone poles did nothing to prepare Dennis for what was to come next. However, owning his energetic and beloved English Springer Spaniel, Andy, for 15 years changed his life forever.
Severn Crow
Co-founder
When you do what you love it's amazing what you can accomplish. Two of Severn's greatest passions are his work and his dog Rocco. Originally from the Washington, D.C. area, Severn has been a dog owner all his life beginning with his childhood dog German Shepherd "Duke" who was found scared and starving in the cellar of an abandoned house.
Mikel Ross
Co-founder / Director of Operations
Mikel grew up in Northern Virginia, outside Washington D.C., where he used to run through the woods with his first dog Shadow. Mikel and Shadow were inseparable, hence her given name, and it was that bond that showed him what the love between a dog and a person could mean to both.
Analiese Hurd
New Franchisee Liaison
Analiese didn't grow up with dogs, but she's always had a passion for animals. After adopting her first dog Rumo (a 1 year old heeler/border collie mix) in 2009, she had no doubt that a career in the animal field was her calling. Discovering Camp Run-A-Mutt in early 2012, it seemed like a perfect fit. She began as a dog handler at our 4th location in San Diego, CA.
Chelsea Birchall
DIGITAL MEDIA MANAGER
For as long as she can remember, Chelsea has always loved dogs. As a little girl, she soaked up as many dog books and movies as she could, and even remembers dressing up as a dog for Halloween three years in a row.
In 2008, a Cavalier King Charles Spaniel named Henry joined her family, and she discovered firsthand the incredible bond people can share with their pups.
Mr. Biggs, Fletcher, & Howard
Executive assistants
Mr. Biggs, Fletcher, & Howard are the newest members of the pack at Camp Run-A-Mutt. They provide motivational & emotional support.