Camp Run-A-Mutt offers the most unique cage free daycare anywhere. We feature a park like setting on premium synthetic turf made especially for dogs, splash pond complete with waterfall, ramps, bridges, dog houses, dog beds, plenty of fresh drinking water and lots of shade.
Our staff: Is there to interact, play, belly rub, maintain the yard and control the chaos.
Your dog: Is there to have fun, be safe and protected while they run, play, splash, sniff, be sniffed and just be a dog all while getting the socialization and exercise every dog needs.
You: Have the peace of mind knowing your furry kid is being cared for during the day just like you would if you could.
Our highly qualified team of "Alpha humans" always encourages good behavior and fun. We are proud of the fact that the campers who qualify to be Camp Run-A-Mutters are never caged, never left unattended and can be watched on our Muttcams from any computer or mobile device.
Campers who qualify to be overnight guests are in for a wonderful experience. Not only do they get to play with their buddies all day, when the sun goes down, we bring them into our large rubber floor play room where they are individually fed in their own private area. After supper they settle in for a night of relaxation, television and community snoozing with the pack. For many dogs, boarding can be a stressful experience. To minimize this stress, our goal is to have your dog's stay as close as possible to what they experience at home. Like our daycare, boarding is totally cage free and dogs are never left unattended. In fact, our "alpha human" actually stays with them in the same room. It's kind of like a slum-grrr party.
While we think cage free is the best way to go, it's not for all dogs. Dogs who have not attended Camp Run-A-Mutt for daycare are required to stay at least a full day (minimum six hours) for evaluation to determine if they will get along in a cage free environment prior to an overnight stay. Feeding is included in the cost for boarding but we require you to supply your dog's food along with feeding and care instructions. Drop off time is by 12:00 noon and pick up is by close of business the last day of their stay.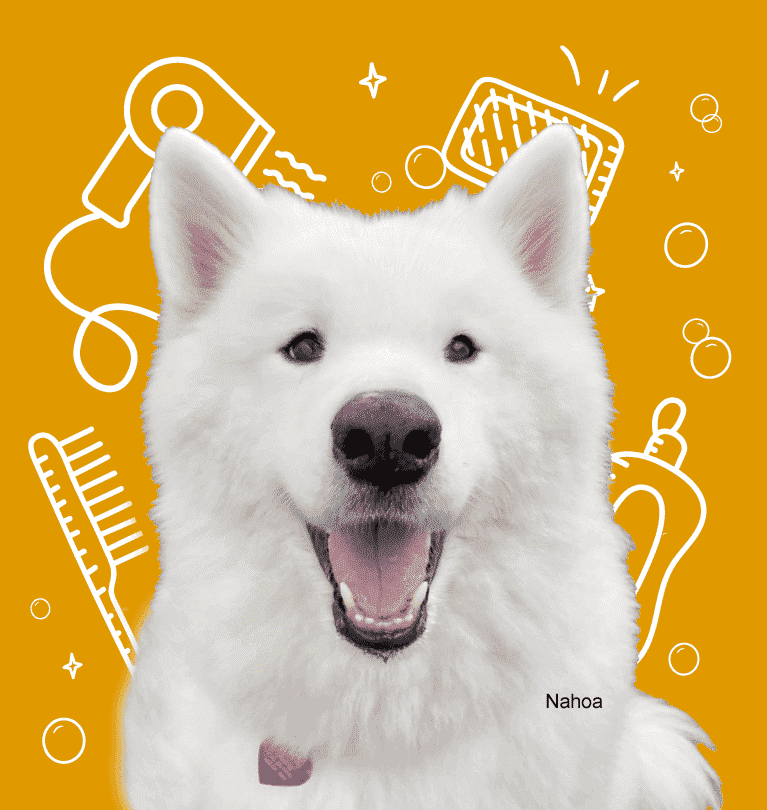 Imagine your ultimate spa experience. It might include a shower with luxurious shampoos, and a stylist to give you a fresh look. But what if the stylist could tell you more? Your pup can get more out of grooming than a new style. A groomer can alert you to your dog's specific need to keep them healthy and fit your lifestyle.
Grooming can be as basic as a regular Nail Trim or Bath & Brush Service to keep your 'mutt' super snuggly. Maybe your pup is a fashionista and wants to run with the "best in show". Poodle trims and sporting clips are available too, or we can create a unique look that lets your pup stand out in the pack.
Our campers never sit in a cage waiting for their appointment. They can be dropped off, play, play, play until they're pooped, get groomed and beautiful, play some more then go home. If you need to pick up late, your pup can lounge with the groomer until you pick up, so they stay beautiful. They get a stress free, fun experience, and you get a tired, clean and groomed pup at the end of the day. Talk about convenient!! It's an ultimate grooming spa experience.
Dogs who are not "campers" can also be groomed but are kept separate from the rest of the dogs until they are picked up. All "non-campers" need proof of current vaccinations. Walk-Ins are welcome but appointments are recommended.
Camp Run-A-Mutt believes in using positive reinforcement training. The positive reinforcement method rewards the dog (by praise, a treat or a clicker) when desired behavior happens. It's a tried and true method which humans, dogs and Camp Run-A-Mutt prefer.
Most of our locations offer group training classes, which are great for puppies and younger dogs that need a little more practice with the basics such as walking on a loose leash, coming on command, "sit" and "stay." One thing we know to be true at Camp Run-A-Mutt is that you CAN teach old dogs new tricks, so group classes are available for all campers (and non-campers!).
Many of the trainers we work with can also customize private training based on the needs of you and your dog, whether that's at Camp, or at home.
For more information about available training classes and other options, check out the website for a Camp Run-A-Mutt location near you!